Charles was born in Norwood, NJ, in the early part of the 20th Century. He graduated from Closter High School (Closter, NJ) in 1928 and received a Bachelor of Science Degree from the State University of Iowa, Iowa City, IA, in 1932.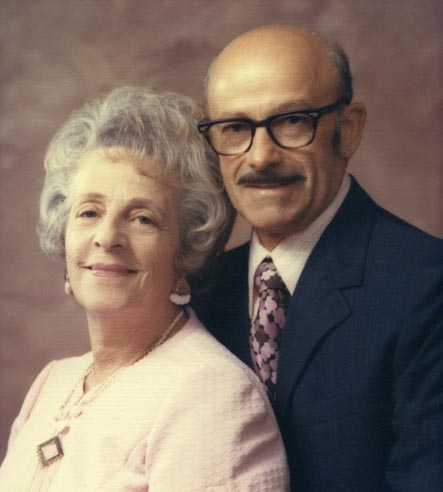 He saw service in World War II as a combat medic with the 82nd Medical Battalion. Prior to shipping overseas to the European Theater, he married his wife, Josephine, in August 1944. The photo left is from their 30th Wedding Anniversary in 1974.
After World War II, he returned to Norwood, where he lived until his death in 1978. From sometime in the 1930s until about 1971 (except for his time overseas in the European Theater) he operated his own business (sole proprietorship) in Northeastern New Jersey.
From 1971 until shortly before his death in 1978 he worked as a Health Inspector in Bergen County New Jersey. His last place of employment was as Health Commissioner in Bergenfield, NJ.
After his death in 1978, Josephine moved to Dumont, NJ, where she resided until her death in 1989.
Josephine was born on Long Island (Springfield, NY) in the early part of the 20th Century. Her family moved to Bergenfield, NJ, in the 1920s. After her mother's untimely death in about 1924, she took care of her siblings until they all left the home. She met Charles in the early 1940s.